Tilting Technology at its best
GABLER M100 Thermoforming Machine
With the M100 high-end thermoforming machine, GABLER Thermoform presents the new generation of trim-in-place (TIP) technology. Due to its high output capacity of up to 180.000 standard cups per hour, this new flagship opens new possibilities and offers clear advantages in terms of production, product quality and automated systems.
Productivity and Precision Combined
Precise trim-in-place production
The M100 high-end thermoforming machine is perfectly suitable for large-scale cup production. It combines forming and punching in one production step. Unlike in the post trim procedure, this concept eliminates the free swinging movement of the film webs for the cups, causing a need to be centered again and having a negative impact on product quality. In addition, the high-end thermoforming machine convinces by innovative drive technology and special stability. Cast steel is used in the frame, yielding highest stability in the area of the forming station – a particularly important factor for the production with films made of polyethylene terephthalate (PET) and polypropylene (PP).
In terms of output, machine stability and new guiding technology within the forming station, the M100 high-end thermoforming machine by GABLER Thermoform sets a milestone. The innovative new features stand for high availability and set the standards of production line efficiency when thermoforming cups, with 50 % more output than the biggest tipping system on the market so far, also made by GABLER Thermoform.
The high quality of the system and the perfected control technology stand for continuously high production power with less scrappage. Compared to the post-trim lines used to date with such quantities, the M100 is the clear winner. Newest assisting plug technology, forming air supply and tool technology but also unstacking enable better material distribution and better film usage that can reduce the raw material consumption by up to 20 % - saving you ready cash!
Because the M100 high-end thermoforming machine by GABLER Thermoforms yields large quantities, the integration of automated processes such as stacking, tubular bagging and carton packing is a must ‒ and easy to implement. Linking with in-house systems or with automation solutions that are readily available on the market ensures that the customer can enjoy a high degree of automation and flexible solutions that take production up to the next higher level.
Do you have questions about the M100 machine and their advantages? Arrange an appointment with us.
Your Added Value at a Glance
Highest output capacity and product quality and a significant reduction of scrappage
Continuously high production power with reduced energy consumption
High efficiency and precision with less material consumption and reduced personnel cost
High productivity due to innovative, simple operation concepts
The product quality in regard to material distribution and forming precision is on the highest level
Smooth processes in further processing help to reduce the manpower needs at the production line
Smart design
Technical Features of the M100
The M100 high-end thermoforming machine by GABLER Thermoform starts a new era of trim-in-place (TIP) technology. With its high output power of up to 180,000 standard cups per hour, the M100 combines high tech and highest precision with reduced energy consumption.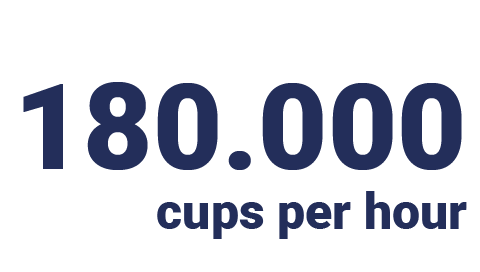 Reverse-Stacker Automation
All products are stacked by the tried and tested turning plate stacker which leads the articles safely to the downstream machine. Stability, precision and precise fitting are the production results of the high-end forming and punching mechanisms. Better material distribution can lower the raw material consumption by up to 20 percent – without negative impact on haptics or top load.
User-friendly HMI Touchscreen
A new sensor system that monitors all operating states during production ensures a high degree of availability. The operating concept with HMI touch screen already employed in the last M-line series has been further developed. The new generation ensures a secure link to upstream and downstream components.