The latest generation of flexible thermoforming
GABLER SWING 3 thermoform machine
Small footprint, even faster tool change and efficient processing of all commercially-available raw materials, including R-PET and biologically-degradable materials: the latest high-end model in our SWING series gives manufacturers more flexibility than ever before - especially when manufacturing small to medium production batches.
Flexibility and efficiency combined
Fields of application
For space-saving production
Small footprint allows integration into production lines with little space or unflexible set-up
For small to medium quantities
Economical even for smaller product batches. Output capacity of up to 50,000 cups per hour
For frequent product changes
Tool change in less than one hour for a wide scope of products
Versatile and high-quality
The highlights
Economical all-rounder
The benefits of the SWING 3
With the SWING 3, you can quickly switch between various products, such as bowls, cups and lids, in production mode, as it takes very little time to convert the high-end counting and stacking device and tool.
Cost-efficient production
The SWING 3 allows you to work extremely cost-effectively: low energy consumption combined with highly efficient utilization of materials and low personnel effort allows you to optimize production costs, even when processing small quantities.
Straightforward automation options
Our high-end automation solutions combine our peripheral devices with automation components – tailored to your production requirements. This allows you to boost your efficiency and productivity with very little manual effort.
Do you have questions about the SWING 3 and their advantages? Arrange an appointment with us.
Your added value at a glance
Tool change in less than one hour for a wide scope of products
Maximum flexibility for changes of product requirements
Minimal personnel expenditure: The machine can be operated by one technician
High-end trim-in-place technology: High product quality due to forming and punching in one step
Compact design: The SWING 3 can be integrated in any production environment
Reusability of tools from previous SWING models
High-quality processing of R-PET and bio-degradable materials.
Cleverly designed
Technical features of SWING 3
Integrated tool changing system
With SWING 3 you can manufacture a wide variety of products. This is made possible, among other things, by the high-end integrated tool changing system, which enables the tool to be changed within an hour. The short changeover time minimizes downtimes and ensures efficient production with maximum flexibility.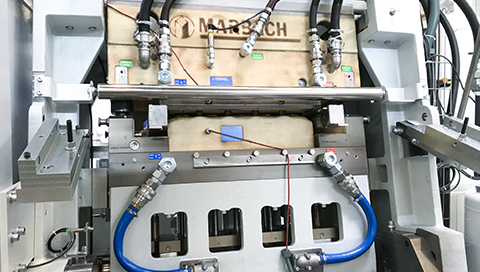 Flexible adjustment of stacking and counting device
Would you like to switch between lids and cups during production? The flexible stacking and counting device allows you to stack products both horizontally and vertically. The changeover can be carried out easily and quickly at any time.
User-friendly HMI display
The intuitive HMI display is very simple which means that very little effort is required by personnel to operate the machine – from normal operation to tool changing.