Stable and powerful
FCS technology redefined
With its multi-station concept, the FLEX-LINE offers unprecedented flexibility in the production of a wide variety of food packaging. As the first FCS machine from GABLER, our novelty among the thermoformers can score with several highlights. With an innovative drive concept including linear guides, its multi-station principle, extremely high clamping forces and the highest cycle rates on the market, the FLEX-LINE sets new standards in the field of thermoforming machines.
> Download FLEX-LINE brochure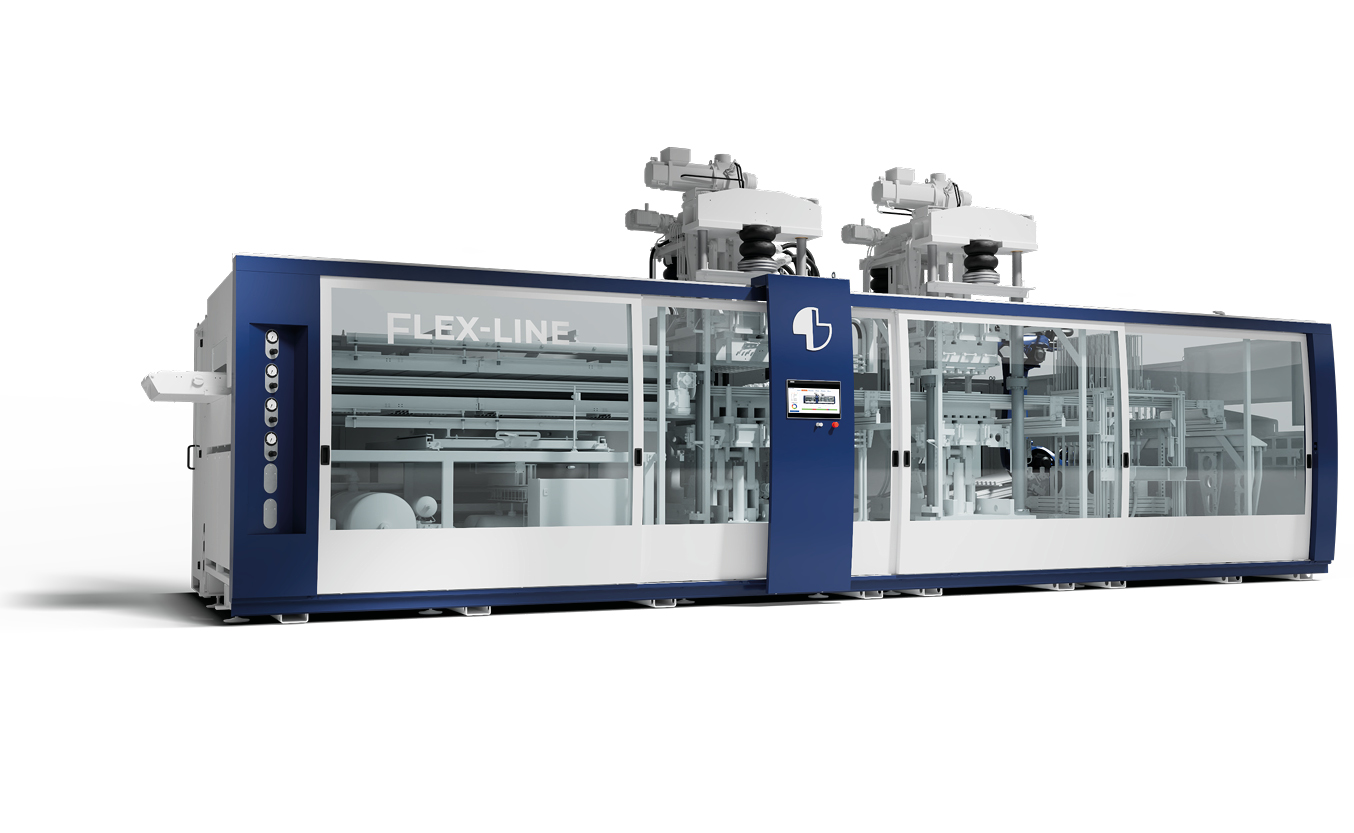 Flexible, more flexible, FLEX-LINE
Smart all-rounder
The FLEX-LINE was specially developed for the production of a wide variety of packaging, mainly for the food or pharmaceutical industries. Its smart multi-station concept allows maximum flexibility with regard to different production concepts and products. Rapid tool change, the flexible use of third-party tools
and the use of regenerative units enable economical and energy efficient production of many different packaging types. But that's not all: by default a 3-station system, the FLEX-LINE can later be supplemented with e.g. a hole punching station.
All this with the FLEX-LINE
One machine, many talents
Whether lids, trays of various sizes or even hinged packs: With the FLEX-LINE, not only can a wide variety of different products be produced in first-class quality, the changeover from one product to the next is also quick and uncomplicated with just a few simple steps.
Any questions about the FLEX-LINE?
Make an appointment with us.
Noch Fragen zur FLEX-LINE?
Vereinbaren Sie einen Termin.
Privacy Policy: The confidentiality and integrity of your personal information is of particular concern to us. We will therefore process and use your information carefully and in accordance with the statutory provisions on data protection and, in particular, will not pass it on to third parties without your consent. We collect, process and use the personal data you provide here only for the purpose of customer service and for communicating with you about products and services in line with your interests as selected by you. You can revoke your consent to receive information on products and services at any time without giving reasons to GABLER Thermoform GmbH & Co. KG at any time. Please feel free to contact datenschutz@gabler.eu for this purpose. Further information on data protection can be found here.