System with unique selling point
Compact all-round talent
SWING
Space-saving, flexible and adaptable: The SWING is the perfect all-rounder for the production of cups, trays or lids. The machine not only scores with its small footprint, it can also be converted for the production of a wide variety of products in a very short time. But that's not all: low energy consumption coupled with a high output rate allow cost-efficient production even for small quantities.
> Download SWING brochure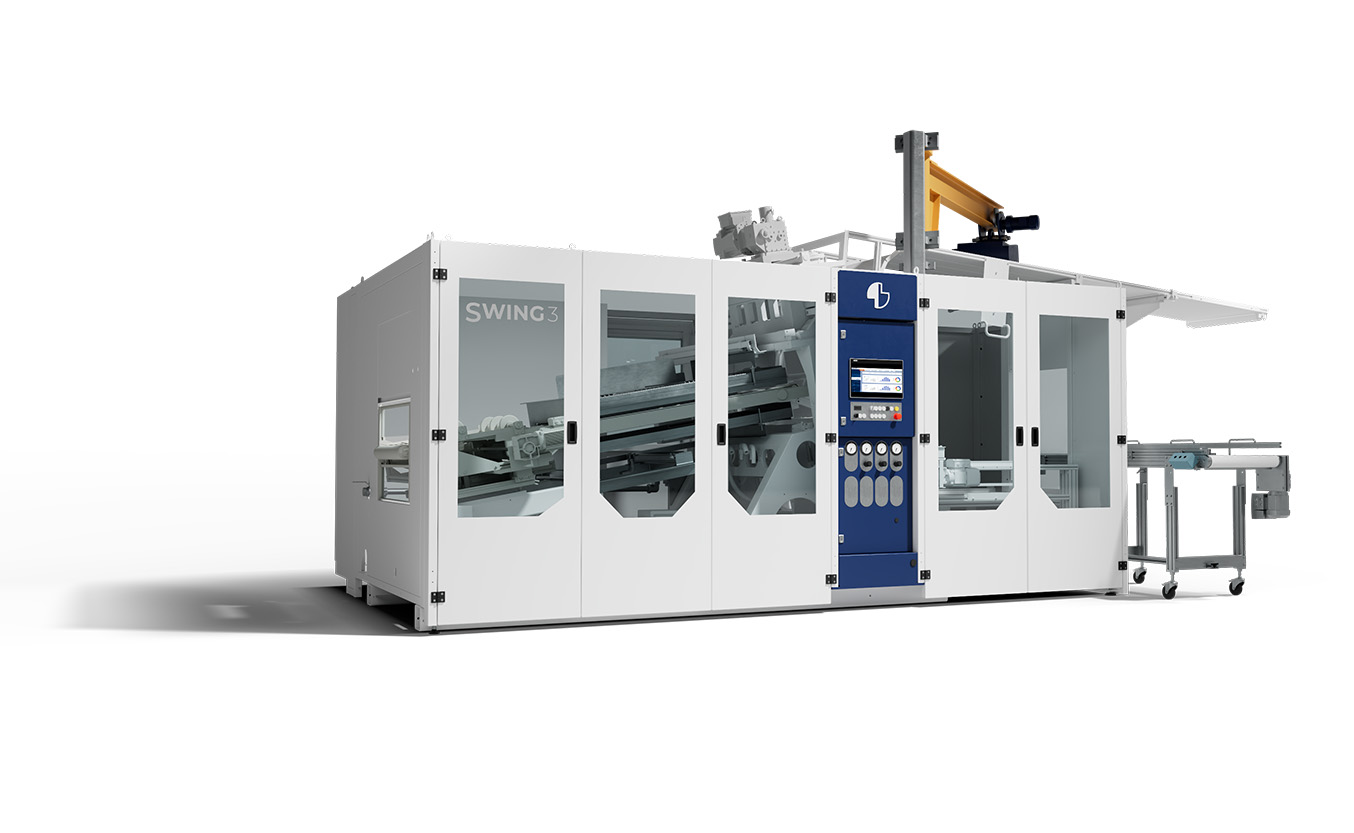 Perfectly set up for all requirements
Smart multitalent
From to-go cups to lids to take-away trays: The SWING was specially developed for the flexible production of different items with small or medium quantities. Its clever stacking and counting mechanism, which can move both horizontally and vertically
depending on the product, allows the production of deep products such as cups or trays as well as flat products such as lids in one and the same machine.
All this with the SWING
One machine, many talents
The SWING is suitable for the production of a wide variety of
products with a height of up to 180 mm. The machine is capable of processing all common materials, including PET & biodegradable materials. Processing of pre-printed film is also possible without any problems.
You have questions about the SWING?
Make an appointment with us.
Noch Fragen zur FLEX-LINE?
Vereinbaren Sie einen Termin.
Privacy Policy: The confidentiality and integrity of your personal information is of particular concern to us. We will therefore process and use your information carefully and in accordance with the statutory provisions on data protection and, in particular, will not pass it on to third parties without your consent. We collect, process and use the personal data you provide here only for the purpose of customer service and for communicating with you about products and services in line with your interests as selected by you. You can revoke your consent to receive information on products and services at any time without giving reasons to GABLER Thermoform GmbH & Co. KG at any time. Please feel free to contact datenschutz@gabler.eu for this purpose. Further information on data protection can be found here.